Soapbox
Don't Buy Simoniz Car Care Products!
Oct. 28, 2006
Recently I purchased a BMW Z4 and I wanted to buy a pressure washer so I could keep the car clean without much effort. Canadian Tire was having a sale on a Simoniz S1800 Pressure Washer discounted from $300 to just $179. It sounded like a great deal so I bought one. Boy, was that a mistake! Keep reading and I'll tell you why — and why you should never buy a Simoniz car care product!
My Simoniz S1800 Experience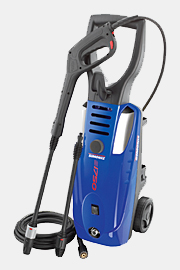 I purchased a Simoniz S1800 pressure washer and it was busted out of the box. Not only would the motor not turn on, but when I tried, it overloaded the circuit and tripped the circuit breaker! It took me a while to figure this out because I couldn't imagine that a consumer product would cause such a problem. I had carefully followed everything in the instruction manual so there was no question about user error. I actually spent a couple of hours trying to get the product working before discovering it was broken, so my frustration and disappointment were building the whole time. By the time I figured it out, I was quite pissed off at Simoniz for shipping a dead product. The "Made in China" badge didn't give me much confidence that a replacement unit would be much better.
While I understand that defects can happen, there were other reasons why I was disappointed with the product. The build quality and product design were cheap, so I knew I would never be completely satisfied with it. For example, the product used a relatively cheap-grade plastic, and the wheels on the bottom barely turned — they would just sort of scrape along the ground when trying to move the unit. Secondly, the detergent tanks fed directly into the pressure washer's injection system, so the instruction manual actually told you to empty the detergent tanks after each use to prevent the injection system from clogging up. That's a really lazy implementation for a product that costs $300; it's also so tedious that it negates the time-saving benefits of using a pressure washer!
In hindsight, I'm glad that the product was defective: it gave me a reason to ask for a refund without feeling guilty for having soiled a brand new product.
I Should Have Known
There were several red flags that should have alerted me to the fact that this would be a cheap product, like:
bonus accessories in the box;
enormous product packaging dimensions;
being made in China; and
being exclusive to Canadian Tire.
Firstly, one way to make a product seem like a better value is to include accessories. The Simoniz S1800 made it seem like you were getting more for your money by throwing in a couple extra wand attachments, like a Turbo Nozzle which was supposed to help you get at tough dirt and a 360° attachment for hard to reach places. While these might sound handy, I would rather have a company add value by building a higher quality product, rather than including accessories that I'll never use. Even at $179, I didn't think the Simoniz S1800 was a good enough value to keep it.
Secondly, oversize product packaging is another illusion companies can use to make you think you're buying something substantial, and the Simoniz S1800 box was enormous at over one metre tall. While the Simoniz S1800 is a large product to begin with, the Kärcher K 5.93M which I eventually bought came in a box that was about half the size.
Thirdly, products made in China are suspect to quality control issues. That opinion comes from my experience as a consumer but also as a manufacturer. For example, my dad imports products from one of China's largest manufacturers and he has all sorts of problems with their lack of quality control. I could say more on the topic, but that's not the point of this article.
Finally, I checked the Simoniz USA Web site and none of their products look anything like the Simoniz products available here in Canada. Since Simoniz products are only available at Canadian Tire, my guess is that Canadian Tire purchased the Simoniz brand name in order to sell Motomaster-grade products at a premium price, thanks to their efforts at marketing the Simoniz brand name. That's pure speculation on my part, but it makes sense.
What a Quality Product Looks Like — The Kärcher K 5.93M
Having decided that I don't want to waste my money on Simoniz products, I checked the Rona Web site to see if they had anything on sale. They didn't, but I did read up on the Kärcher products they were selling. The one I wanted was priced at $278, which was less than the regular price of the Simoniz S1800, but more importantly, it had none of the red flag issues.
For starters, the product included only one wand attachment, and having used it, I can say it is of much higher quality and more versatile than the cheap plastic rods that came with the Simoniz S1800. The product packaging was pragmatic and compact, and the product was built in Italy (by a German company) so I immediately had more confidence in its build quality. Finally, Kärcher products are not exclusive to Rona, so I wasn't worried about it being a no-name brand positioned as a premium product.
I got home and tried the Kärcher K 5.93 and it worked perfectly. The build quality was excellent, with the plastic components feeling very solid and the main unit's body feeling very sturdy and rugged. The wheels actually worked so I could easily roll the unit from place to place. The detergent tanks used suction tubes to draw detergent into the main unit, which meant I didn't have to clean the tanks out after each use. All in all, the Kärcher K 5.93M is a great product and I can appreciate it even more after my poor experience with the Simoniz S1800.
Conclusion
My opinion about Simoniz has been based on this one experience, so ya, it's a bit unfair, but I think my observations are still valid: Simoniz is not a company where quality products are a primary focus. If you value quality in the things you buy, you should think twice before purchasing any Simoniz product. If you're still thinking about it or you see a great deal at Canadian Tire that you're too tempted to pass up, you've been warned!
My apologies to anyone who works at Simoniz Canada who is proud of the work they do and who is offended by this article. My comments are directed at Simoniz as a whole and I'd be happy to see the company turn this image around someday and invalidate my arguments.