Cars

People like cars for all sorts of reasons. Some like to trick their cars out with neon lights, low-rider suspensions, super-sized wheels, and other retarded customisations that make them feel cool. Others like to pack gobs of horsepower into their cars in case they ever go head-to-head with a military jet fighter.
I love cars because I love to drive them — and by drive I mean race. Maybe I've never been on a race track outside the world of Nintendo, but even within the city there are so many opportunities to enjoy driving a sports car. What amases me is how every car has its own personality, and when you drive a really good sports car, it comes alive and feels like a living, breathing machine. If you've never driven a racing-bred sports car though, it might be hard to understand just how much difference there is between your four-door sedan and those high-priced cars from Porsche or Ferrari.
My Toyota MR2 Supercharged
When I was in high school, my friends used to drool over exotic sports cars and I never really understood the fascination. But one car did catch my fancy and that was the Toyota MR2 Supercharged. The styling, the ergonomics, the performance, the handling, and the general spirit of Toyota's Sports Car Division in those days had me thinking seriously about getting an MR2 as my first car. When I got my first job in 1994, I saw an '89 MR2 Supercharged in the Toronto AutoTrader and it was in fantastic condition — I bought it two days later.

A photo of my MR2 from August 2004
While it may not be as flashy as some of the newest cars from Mercedes, Porsche, or even Toyota, the '89 MR2 is still as exciting as any entry-level sports car on the road today. The MR2 engine has a rich, silky sound at low revs, and it screams with conviction when you push the engine to its 7600 RPM red line. Even when I'm driving casually, I'm thrown back in my seat when the supercharger kicks in and it always amazes me that this car's powerplant is only a 1.6 liter engine! The MR2 is a lot of fun to drive and it still draws stares and compliments from people who think it's pretty cool. Even if I have a Ferrari in my stable someday, this car will always be one of my favourites.
As much as I love my MR2 however, it's starting to show its age. The body is rusting with a couple of holes in the bodywork, so I'm a bit embarrassed to drive around in it; I've been told the transmission synchros have worn out which is why it no longer shifts gears smoothly; there's apparently a build-up of deposit in the exhaust system which may explain why the car doesn't perform as well as it used to (and why it fails Ontario's emission tests); and, one of the motor-driven pop-up headlights has started to fail. While I'd love to bring the car back to pristine condition and make it as fun to drive as it used to be, I've been driving this car for over a decade now and in early 2006, I decided that it was time to spend my money on something new.
The Lotus Elise
Enter the 2006 Lotus Elise. I was first introduced to this car through Namco's fantastic racing game for the Nintendo GameCube, R: Racing Evolution. That game had a very real feel to it (especially when using my steering wheel controller) and the Lotus Elise was such an easy car to drive well. Then I heard that Lotus was bringing the Elise to North America, with a Yamaha-tuned Toyota 2ZZ-GE engine (from the Toyota Celica). Given my confidence in Toyota engines from the MR2 and the specs offered by the Elise, like doing 0-60mph in a mere 4.9 seconds, plus all the positive reviews and my own experience from driving the Elise in R, I decided that this was the next car for me.
A stock photo of a 2006 Lotus Elise
I was really serious about getting an Elise so I went to see the car in-person at a Lotus dealership, even though I knew it would be some time before I could afford the $70,000 price tag. The car was everything I had hoped except for one problem — the trunk was barely big enough to hold a gym bag! I started to think about workarounds, like buying an affordable run-around car for those times when I needed the extra room, but in the end, I decided my minimum requirement had to be a car that could fit a set of golf clubs.
The BMW Z4 3.0i Roadster
In August 2006, I started shopping for a car that could meet my "golf clubs" requirement. At first I thought a BMW 3-series would be the most appropriate because the ones I test drove were affordable, fun to drive, and they had plenty of room. Then one evening when I was with my brother, one of the cars in his condo's parking garage was a BMW Z4. It looked exciting and I thought to myself, "Why had I never considered that before?" I read up on it and discovered BMW's claim that it can fit not only one but two golf bags! Now here was a car company that knew exactly what I was looking for! Four days later, I purchased my very own BMW Z4!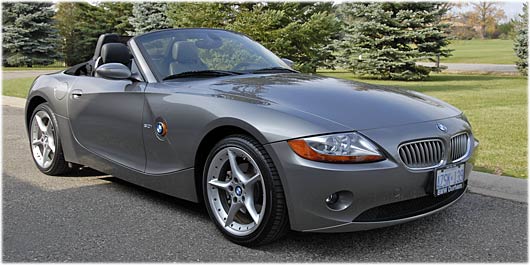 My BMW Z4 3.0i Roadster with the top down
The BMW Z4 3.0i Roadster is fun! It's equipped with an inline six-cylinder 3.0L engine which is the best configuration for a sports car (something I learned when my brother owned a 1990 Toyota Supra Turbo). Suprisingly, the car has about the same performance numbers as my trusty old MR2 (when the MR2 was in its best condition), but the BMW feels so much faster and more powerful. After having driven a mid-engine MR2 for over a decade, it's going to take some time to get used to a front-engine vehicle (especially one with such a huge engine hood), but I'm already finding it easy to handle and control.
My Z4 is equipped with BMW's Sequential M Gearbox (SMG), which means it uses the same sort of clutchless manual transmission found in a Formula 1 car. It took about half an hour of driving to get used to the SMG transmission, but then I had no regrets about foregoing a conventional manual gearbox for this exciting, racing-bred technology. Everything about the Z4 is sophisticated and refined and it illustrates just how simple my MR2 was in comparison. As sad as I am to see my MR2's days come to an end, I'm happy to say that I have finally found a car that's even more exciting and fun to drive.